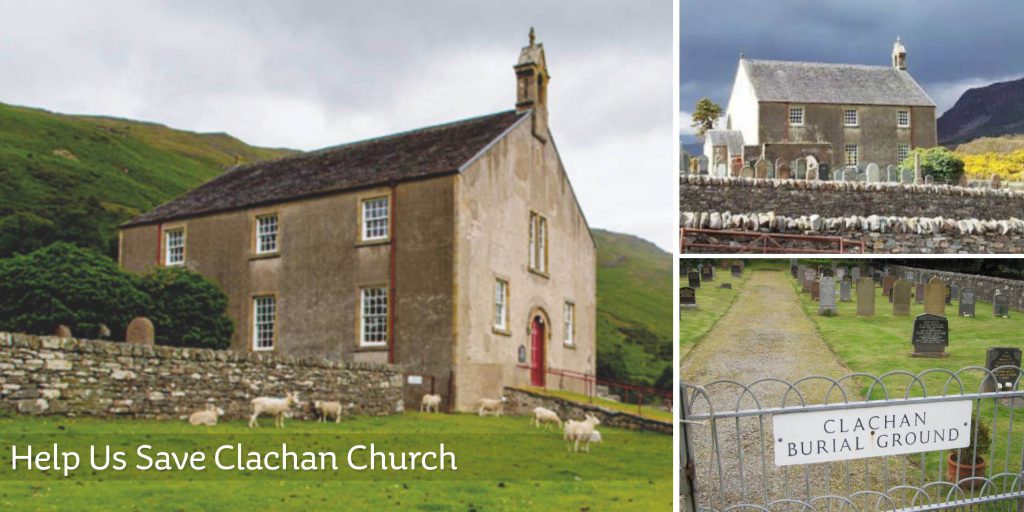 Help us save Clachan Church for the community
The Lochbroom Parish Church at Clachan is on its way to becoming a community asset in the ownership of a locally formed community trust, the Clachan Lochbroom Heritage Trust (SCIO 047544).  The Trust has been given the chance to buy Clachan Church by the General Trustees of the Church of Scotland in Edinburgh.  The last service was held in late 2016 but we are hopeful that soon there will be a new beginning.  
Clachan Church is the oldest continuously used site in the area.  A place of worship has stood there for 800 years.  The current church was built in 1817 and, although needing work, we have a surveyor's report stating that it is in a reasonable state of repair.  The burial ground will continue as an active graveyard with a likely extension required soon as many, not just in the local area, have strong connections to the Church and have relatives in the burial ground.
The Trust envisages the Church being used for services again, for weddings,funerals and other religious purposes.  Many local people will remember the Christmas carol services held from 2013 to 2015 when the Church  was decorated with candles and greenery and filled with people – 200 people attended  in 2015 and we want to see that happen again.  Members also want it to be used as a community resource – for concerts, history exhibitions, arts and crafts displays and any other appropriate use that the community may suggest.
But first up we need to raise the purchase price which is not large but we have a relatively short time frame.  We also need further funds for the initial costs and later for renovations and upkeep.  We are asking for donations from within our local community and further afield.  We also hope that the wide diaspora around the world will want to contribute and to visit and find links and roots

1.Donations can now be made on-line…..via myDonate
Visit https://mydonate.bt.com/chari…/clachanlochbroomheritagetrust
2. Direct bank transfer
Bank account details:
Name: Clachan Lochbroom Heritage Trust
A/c no. 00128109. Sort code 83 28 01
Royal Bank of Scotland, 11 Argyle St, Ullapool, Ross-shire IV26 2UD
IBAN : GB96RBOS83280100128109
IBAN BIC: RBOSGB2L
3. Cheque made payable to CLHT & sent to our office at 26 Argyle St, Ullapool, Garve, Ross-shire, IV26 2UB
58658773